Skin Comfort
SKIN COMFORT BREAKS OFF THIS DESTRUCTIVE CYCLE HELPING THE SKIN REBUILD ITS OWN LIPIDIC LAYER.
There are different reasons for skin sensitiveness, external as well as psychosomatics can all cause decrease of skin's own defense system, irritation, blotchy with visible surface veins and skin ageing.
FRESH CLEANSING FLUID – 250 ml
Feature: Fresh Cleansing Fluid is a soft make up remover. With anti-allergic, anti-inflammatory, sedative and soothing function.
Usage: Sweep on with a cotton pad on face and eyes. Remove the excess with a cotton pad soaked up with Refreshing Toner Lotion.
REFRESHING TONER – 250 ml
Feature: This is a gentle, refreshing and soothing Toner. It is specially formulated without fragance and alcohol, to refresh, soothe and balance the cutaneous conditions while protecting the hydrolipidic layer.
Usage: Apply morning and night with a cotton pad to help remove mechanically all the impurities. Leaves the skin clean, soft and moisturized, ready for the moisturizer.
CALMING DAY LOTION – 50 ml
Feature: Perfect composition to protect this delicate skins, and keep the hydro-lipidic balance essential to prevent skin ageing and restore skin's ideal physiologic condition.
Usage: Apply all the mornings after Refreshing Toner. Its light texture allows an immediate application of make-up.
GENTLE NIGHT CREAM – 50 ml
Feature: Gentle Night Cream provides a potent, synergistic support of key cell growth and protective ingredients for the skin. It leaves the skin smooth and comfortable.
Usage: Apply every night after cleansing the skin with fresh Cleansing Milk and Refreshing Toner.
SKIN RESTORE PLUS – 50 ml
Feature: The formula does not contain emulsifiers and chemical additives, touch silk soft and skin structure similar to the skin can be quickly absorbed, highly effective and combined with  the sebum protective improve the sensitive and red skin and give the skin moisture.
Usage: Apply morning and night after cleansing the skin.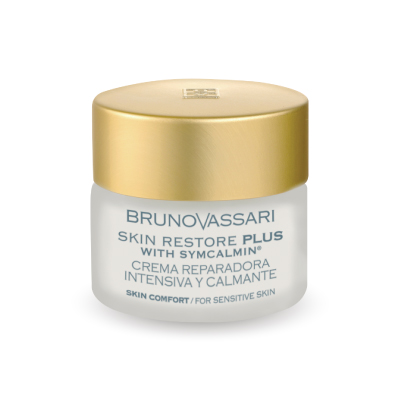 STOP REDNESS – 50 ml
Feature: Calming and anti-inflammatory fluid which works against redness and couperose.
Usage: Apply morning and/or night after cleansing the skin.