White
BEAUTY TREATMENT FOR LIGHTEN AND MORE LUMINOUS SKIN.
It protects while preventing the appearance of dark spots.
AQUA PURA – 250 ml
Feature: Applicable to any nature and sensitivity of the skin, together makeup, firming and moisturizing three functions. No need to clean after use.
Usage: Apply morning and night, humidify a cotton pad and clean face, neck and décollete. vNo need wash off.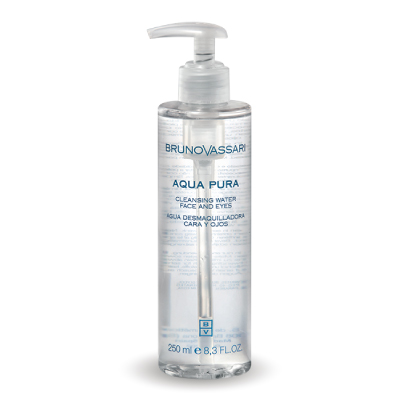 CREAMY CLEANSING FOAM – 150 ml
Feature: Creamy Cleansing Foam is the first step for a whitening treatment. It removes make-up and dead cells, leaving the skin clean, smooth and bright, ready for the whitening treatment.
Usage: Use morning and/or night as a daily cleanser.
BRIGHTENING LOTION – 250 ml
Feature: Brightening Lotion is a refreshing toner with brightening and calming ingredients that lighten dark spots and the skin complexion. It removes sweat. Pollution and dead cells full of melanin of the skin surface, which recovers its natural light and shine.
Usage: Use day and night with a cotton pad after cleansing.
WHITE LIGHT ANTI SPOT ACTIVE CORRECTOR – 30 ml
Feature: For a focused spots and irregular pigmentation treatment, White Light is the suitable emulsion for its brightening agents combination. It lightens the brown stains, no side effects.
Usage: Apply every day on a perfectly clean skin before the usual treatment.
BRIGHTENING ESSENCE GEL – 30 ml
Feature: Serum with an intensive whitening, anti-wrinkle and anti-oxidant.
Usage: After the toner we follow the treatment by applying Brightening Essence Gel all over the face. Apply day and night. At day time, apply a sun filter to protect the skin from the sun radiation.
PURE C VITAMIN C SERUM – 8 ml x 3
Feature: Intensive whitening treatment in an oil-free serum formula to prevent spots appearance, brightens and unifies skin tone and speeds un cell metabolism.
Usage: Apply morning and night, can be used alone or with other skin care products. Must be used once products opened within 10 days.
DAY PROTECTION SPF15 – 50 ml
Feature: To remove the spots and unify the skin tone, not only the treatment is necessary, but it is crucisl prevention with protection like White Day Protection SPF15. White Day supplies the necessary protection and treatment to defense the skin against ultraviolet radiation damage. It has a dual activity by preventing and treating the spots. Does not contain perfume.
Usage: Apply every morning as a usual treatment, after facial cleansing.
DAILY UV BRIGHTENING LOTION SPF40 – 40 g
Feature: Daily UV Brightening Lotion is a protecting lotion anti-spot with double action product: protects from the ultraviolet radiations inhibiting the stimulation of the melanin, while lightens the existing spots, thanks to a stable derivate from Vitamin C (Ascorbyl Glucoside). It protects the skin from the ultraviolet radiations as they give the product a SPF40.
Usage: Apply every day in the morning, alone or before make-up. Shake it before use.