Lab Biotics
Pre and Probiotics that help maintain the delicate balance of the micro-biota of the skin, improving both its resistance and its defense. They reactivate its own cellular renewal, strengthen the natural barrier of the skin that protects us from harmful external factors and premature ageing of the skin, while providing in depth moisturisation and revitalization.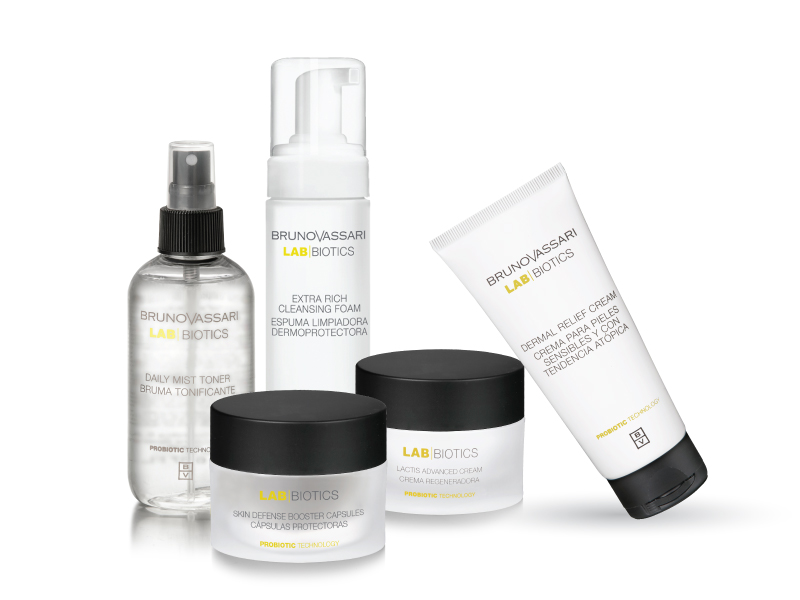 EXTRA RICH CLEANSING FOAM – 150 ml
Feature: Extra Rich Cleansing Foam has been developed to guarantee an efficient daily hygiene of the skin without harming it, respecting the microbiota and ensuring its maximum comfort. It eliminates any remains of makeup, dirtiness or impurities that may block the skin and avoid the correct absorption of the actives that are later appied.
Usage: Apply day and night over face and neck. Rinse off with plenty of water.
DAILY MIST TONER – 200 ml
Feature: Prebiotic facial mist that refreshes, moisturises and activates the natural defences of the skin. It reestablishes the balance of the beneficial flora after daily cleansing and protects the cutaneous ecosystem from external aggressions, strenthening the protective barrier and maintaining the optimum levels of moisturisation.
Usage: For its use as a toner, apply on clean and dry skin, using cotton wool with gentle friction, to complete the cleansing of the skin. For its use as a preparation of the skin and favouring the penetration of the actives, apply as a "mist" spraying directly onto the area to be treated. This method of application also enables us to put on makeup to recover the moisturisation and comfort of the skin throughout the day.
DERMAL RELIEF CREAM – 100 ml
Feature: Facial and Body cram suited for sensitive and fragile skins. A suitable product tailored for hypersensitive skin to restore the impaired cutaneous barrier and reinforce the beneficial skin microflora.
Usage: Apply to the affected area with soft maneuvers until its complete absorption. It can be applied for several times according to the skin needs.
LACTIS ADVANCED CREAM – 50 ml
Feature: Regenerating Cream rich in pre- and probiotic activves that helps maintain the balance of the cutaneous flora of the skin. It reactivates its own cellular renewal, strengthening the natural barrier of the skin that protects us from external damaging factors, while deeply moisturising and revitalising.
Usage: Apply day and night after over face and neck after the skin cleansing routine.
SKIN DEFENSE BOOSTER CAPSULES – 60 Caps
Feature: Serum that helps boost the defensive power of the skin, strengthening its resistance to the environment, stress and pollution and delaying premature signs of ageing. It ensures that the skin is a more effective defence barrier.
Usage: Apply at night time after the skin cleansing.